What's new in dkNET: User Notifications
It's been a while since we provided you with updates on new features in dkNET.  WE apologize for the absence-we've been busy though.  Please check back here for regular updates.  First, we'd like to introduce our new team member, Dr. Ko-Wei Lin, who has just joined us as Project Manager.
You may have noticed that our web page has changed.  We have consolidated dkNET into a single portal, rather than maintain a separate web page.  You can find information about dkNET under the ABOUT menu.  If you'd like to learn more about dkNET and how you can use it, check out our publication in PLoSOne.
New features:  We are pleased to announce a new User Notification and E-mail Update feature. Now users can sign up for email notifications when new data is added to dkNET that matches a search criteria.
How to sign up for notifications and e-mail updates:
To start with, you'll need an account on dkNET.  Type in your search, and click on  "save search" .  If you already have an account and a saved search, click MY ACCOUNT, and select Saved Searches from the drop-down menu.
To set up User Notification or E-mail Updates, click on the Actions button on the right-hand side of each saved search.
From the drop-down menu, choose to subscribe or unsubscribe to user notifications via the dkNET website and/or e-mail.
If there are updates from your saved search results, you will see "New updates" on dkNET webpages.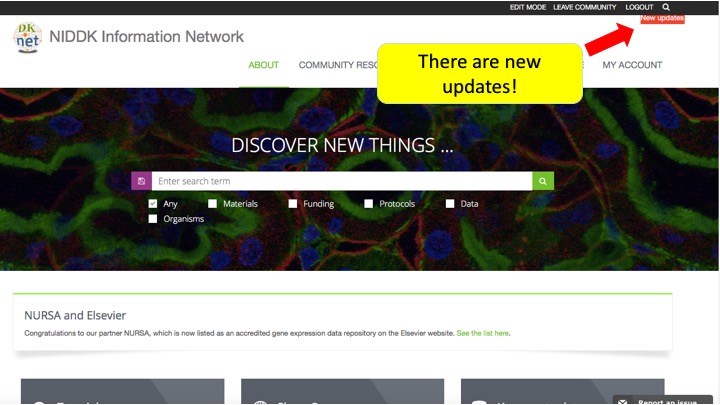 Click MY ACCOUNT. You will see the number of updated saved search labeled next to Saved Search.
Click Saved Searches. Now you will also see "NEW" labeled on the saved search that have updates.